List of Cards
Edit
Hecate has 2 copies of each of the following cards:
Import Code:
7dr 7dr 7dr 7dr 7dr 7dr 7t4 7t4 7t4 7t4 7t4 7t4 7t4 7t4 7t4 7tb 7te 7te 7te 7te 7tg 7tg 7tg 7tg 7tg 7tg 7th 7th 7th 7t9 7t9 7ta 7t8 8po

Permanent Control: 4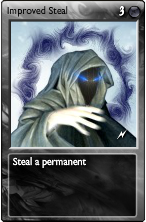 Hand Control: 6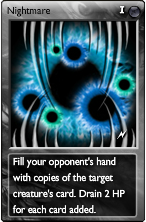 Hecate tends to bring a few Voodoo Dolls in play and use one or two rage elixirs on them granting them 12/8 stats. I would recommend any card that is able to finish them in one blow, e.g. Maxwell's Demon (only works when  she uses Rage Elixir twice) or high-power Fire Lances.
If you can get rid of those Voodoo Dolls, you take away most of her damage output. Steal or Deflagration on her weapon should leave her defenceless.
You can use Parallel Universe their Voodoo Dolls, and it would damage her (and you) to cast Rage Elixir on your own Voodoo Doll, and you can use Antimatter on her Voodoo Doll later to reduce her damage -- but use it only on when their Voodoo hp isn't lower than 6 else she will just destroy them with rage elixir. Antimatter will also make her Vampire Voodoo (Liquid Shadow on Voodoo) deal damage to herself because of negative attack. After that, it depends on luck that your Voodoo Doll attacks won't miss due to her Dusk Mantle.
A deck with 6x Antimatter, 6x Parallel Universe and 18x pendulums (depending on what your mark is, Aether or Entropy) is very effective on her; I won two times out of three with this deck. (The time I lost is when she didn't use a single rage elixir and she just spammed Liquid Shadow on Voodoo Dolls and use her weapon to kill me.)
I beat her running a nymph deck. You just need fast enough damage and Arctic Squids to freeze any Voodoo Dolls she buffs. Water Shield and Shard of Patience help. (The shard can raise hp enough to protect against Rage Potions.) I run 19x Water Pillars, 5x Nymphs Tears, 3x Arctic Squids, 1x Water Shield and 2 Shards of Patience.
---
Fake Gods

Akebono

Chaos Lord

Dark Matter

Decay

Destiny

Divine Glory

Dream Catcher

Elidnis

Eternal Phoenix

Ferox

Fire Queen

Gemini

Graviton

Hecate

Hermes

Incarnate

Jezebel

Lionheart

Miracle
Morte

Neptune

Obliterator

Octane

Osiris

Paradox

Rainbow

Scorpio

Seism

Serket
Community content is available under
CC-BY-SA
unless otherwise noted.